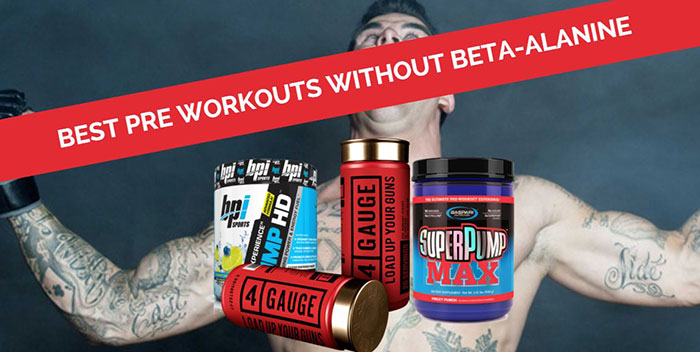 Pre workout without beta alanine is a common worry for many people out there who want to keep their diet in check, and stay as healthy as possible.
There are many reasons why you would want to avoid beta-alanine.
Such as… the excessive tingling feeling you get on your face, and all over your skin. Which is enough to put anyone off a gym session.
To help you choose a safe pre workout, we've listed the best pre workouts without beta-alanine right here!
But first….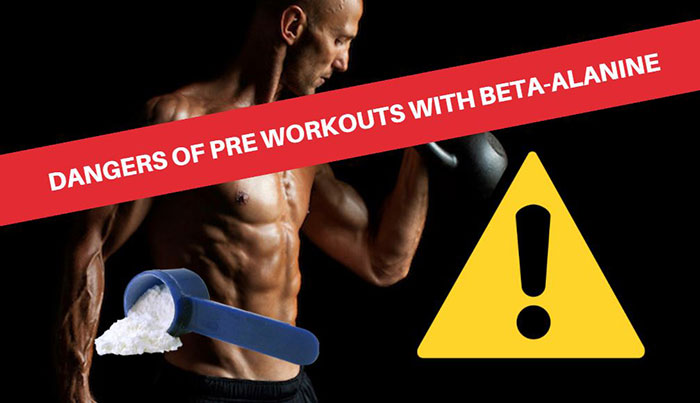 Dangers of pre workouts with…
Beta-alanine
Here we'll discuss;'Why you SHOULD use a pre workout without beta alanine.'
Chances are you've either heard of the side-effects beta-alenine can result in, or you've experienced it first hand so you know what I'm about to say.
It's 'fuk*$ng' annoying when your face is tingling so much that you just want to scratch it off. Or that your arms feel like they are covered in tiny ants with an intense numbness.
That's why you should research the best natural pre workouts available.
This isn't just annoying, but it can also be dangerous. Imagine this scenario for a second if you will…
You're laying under a 200lb bench press and you're pushing hard to finish, then, all of a sudden, the beta-alenine that you took 15 minutes ago in the changing room just kicks in – AKA: parasthesia.
What do you do… Freak out? Probably… But you most likely will say to yourself, "I'm not using beta-alanine again."
Web-MD have written a great article on the possible dangers, and lack of evidence to supports it's use. You can see the full report here: WebMd.com
Reasons To Avoid Beta-Alanine
So to recap on why you SHOULD NOT be using beta-alanine:
It's dangerous under certain circumstances
It can cause parasthesia, which feels like numbness all over your body – not pleasant, and not safe when exercising.
It can make you sick.
You could become drained of energy due to the stress it could cause.
And many more reasons…
Best Pre Workouts without…
Beta-alanine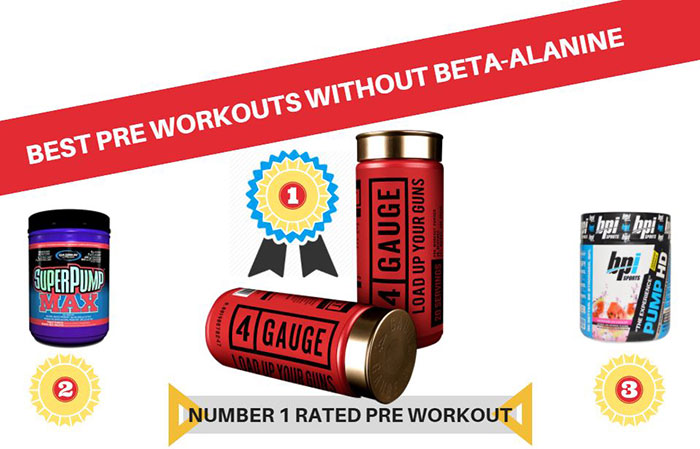 Now, the moment you've all been waiting for, the list of the best pre workout supplements without beta-alanine.
We've specifically hand picked these as we've tried and tested them, and we know you won't experience any of those nasty side effect previously mentioned.
Below are the best pre workouts on the market to date. You won't find any better pre workouts than what we've listed right here!
They are all up to date, tried and tested, and most of all, they DON'T contain beta-alanine!
4 Gauge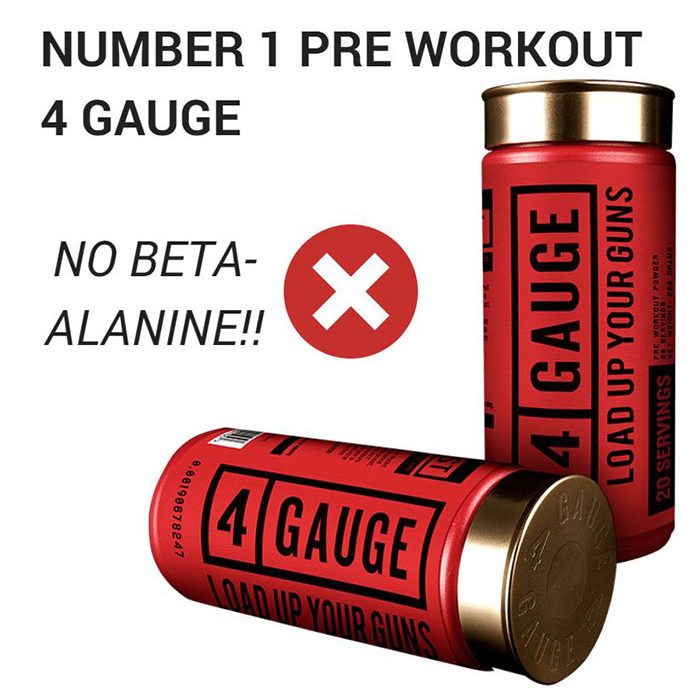 4 Gauge is by far the best pre workout we've used that doesn't contain beta-alanine.
It's formulated with the right amount of ingredients so that you could actually use it everyday and not feel any negative side effects at all.
Benefits of 4 Gauge: 
Doesn't contain beta-alanine
Get huge muscle pumps
Clean reliable energy
Improve endurance
Smash your PB's
So you want a pre workout without beta-alanaine that won't cause your face to go numb?
Then 4 Gauge is for you!
Trust in this pre workout and you won't be disappointed, I promise you that. It works a treat for me, and everyone at Spotmebro.com.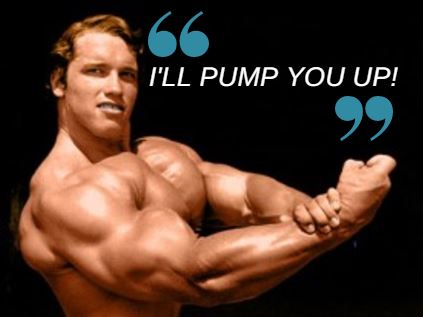 If yes!… Visit 4Gauge.com
---
Main Ingredients Inside 4 Gauge:
Here are some of the main ingredients inside 4 Gauge and how they work to give you awesome long lasting pumps inside, and outside of the gym for hours.
Caffeine Anhydrous – Boosts energy levels for maximum endurance
L-Theanine – Increases focus and alertness
Creatine Monohydrate – Improves muscle hydration and ATP levels
L-Citrulline DI-Malate – Improves blood flow throughout the whole body
Red Beet – Creates awesome muscle pumps
Rhodiola Rosea – Reduces fatigue to help you train harder for longer
Acetyl-L-Carnitine – Improves neurological brain functioning to help you think faster and sharper
Coconut Water Powder – Prevents muscles cramps by hydrating the body
To find out more…
---
Gaspari Nutrition SuperPump MAX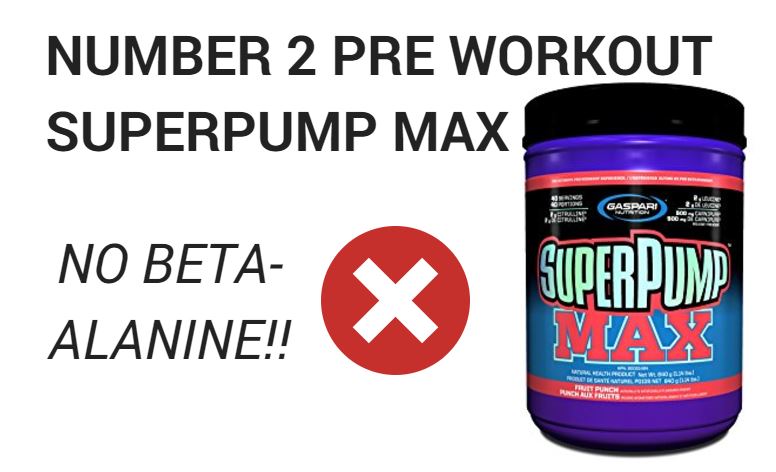 Gaspari's Super Pump has been around for along time now, and if you haven't heard of it, it's had some decent feedback from many people over the years. .
Not as good as 4 Gauge due to the lack of some natural ingredients, but it's still worth thinking about.
Benefits of SuperPump Max: 
Doesn't contain beta-alanine
Reliable energy from caffeine
Improves stamina
Includes safe ingredients
Visit Gaspari Nutrition Super Pump Here.
---
Pump-HD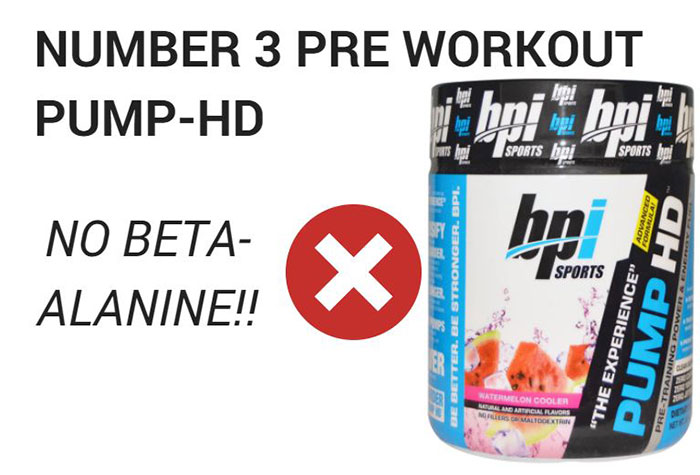 BPI Sports have come up with this non stimulant pre workout that doesn't contain any aggressive ingredients, including the numbness you'd get from beta-alanine.
Specifically made for those who don't want to use caffeine, but still get a boost for a good workout, then Pump-HD could be good for you.
Benefits of Pump HD: 
Doesn't contain beta-alanine
Non stimulant for people sensitive to caffeine
Creates focus in the gym
Improve muscle endurance
Visit BPI Sports Pump HD Here.
Conclusion To…
Pre Workout Without Beta Alanine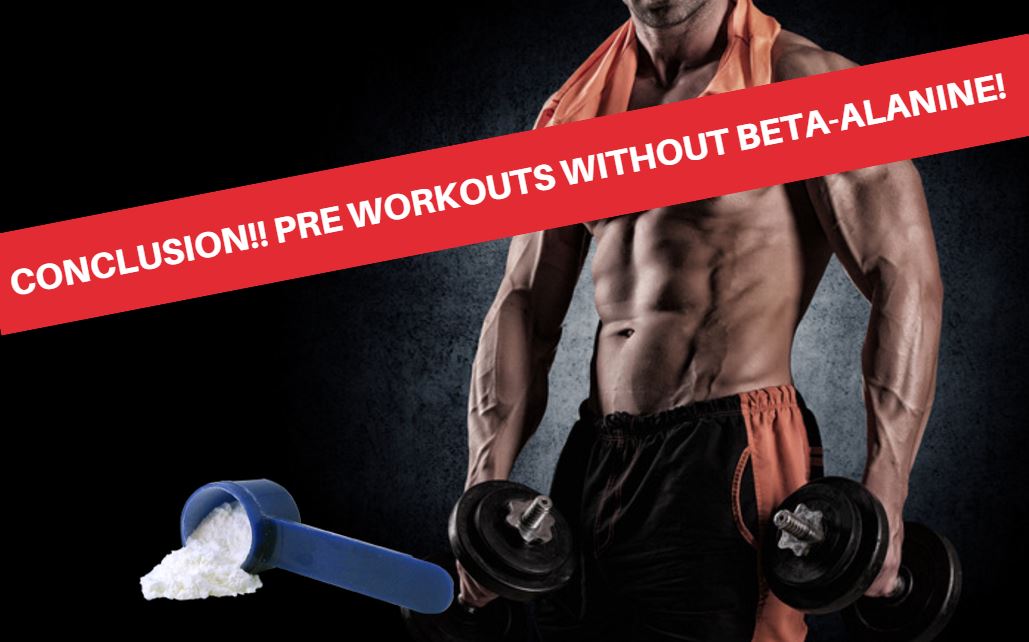 Whatever your reason for not wanting to use a pre workout without beta-alanine, we hope you've enjoyed reading this article, and that you've come away with an answer to your question.
If you want to see other pre workouts, you can always visit out Awards Page where we've listed the best pre workouts.
RECAP! Why YOU should use a pre workout WITHOUT beta-alanine?
It's bad for YOUR focus – distracting your workout
You could have an accident when under heavy weight
It's uncomfortable
You could suffer anxiety because of it
Other safer more reliable options are available for you
So, what do you do with all of this information? You either go out and BUY 4 Gauge like we highly suggest, or you forever suffer with other pre workouts.
You can visit 4Gauge.com here, or if you want to see other pre workouts, head over to our best pre workouts page today.