Phil Heath underwent multiple surgeries on a hernia after his 7th Mr. Olympia win back in September 2017, and has recently been hitting the gym hard.
Injuries have been hitting the bodybuilding world a hell of a lot recently, with Jeremy Buendia, Jon Skywalker, Calum Von Moger, and even the mighty Phil Heath sidelined one way or another.
But the 7x Mr. Olympia champion recently returned to the gym – going all out in an intense training session, which you can view here, courtesy of Fazi Fitness.
Mr. Olympia Champion
Phil Heath is undoubtedly one of the best bodybuilders of the current generation. We mean, he's won every Mr. Olympia competition since 2011 bros.
In 2017, he stormed to his seventh title win in a row – bringing himself level with the legendary Arnold Schwarzenegger in terms of Mr. Olympia victories.
Ronnie Coleman and Lee Haney are currently tied on 8 Olympia wins each, so we're pretty sure Phil will be looking to overtake them. With several years still ahead of him in his bodybuilding career, he might do just that.
Serious Injury
Shortly after his Mr. Olympia victory in September 2017, Phil was admitted to hospital after a hernia took its toll on his body – forcing him to undergo multiple surgeries to correct the damage.
Phil's fiancee had this to say on Instagram:
"Phil had two huge hernias. One above his belly button that spread 2 inches wide on each side where his upper intestines were caught within the torn tissue and muscle and a lower abdominal hernia which was apart of his umbilical hernia that he was born with (which was repaired at age 2 and was done horribly wrong) this lower hernia was so bad that it tore from side to side, up and down causing Phil to have a 3 inch hole that was an inch deep and had 4 inches of his small intestines hanging over that hole".
Pretty serious s**t if you ask us!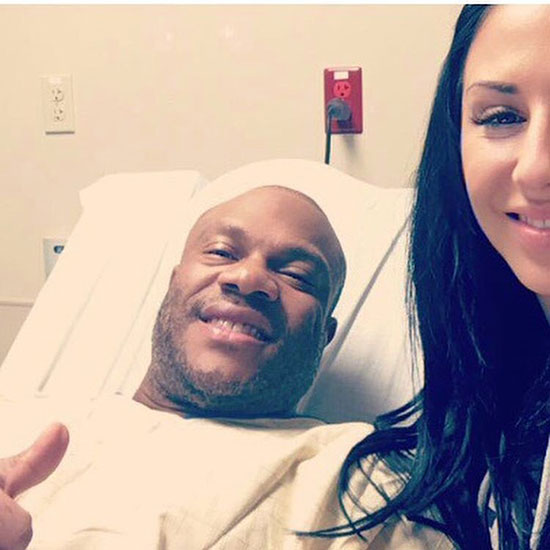 Image Credit: @__mrsheath__
Intense Training
After some time out from the gym to recover from his surgeries, Phil recently returned to the gym, picking up where he left off.
The shared video features Phil performing heavy sets on various exercises, including the seated cable row, and machine rows.
If you need to give yourself a kick up the a** to get yourself back in the gym, then give the video a watch – we're sure it'll make you feel bad about not going hard enough in the gym brah.
Conclusion
It's great to see Phil back in the gym and training hard, after what appeared to be a pretty serious injury.
He had to spend quite a while in recovery, which meant he had to put his bodybuilding goals on hold for some time. But we're sure that he'll soon be back to his best.
How do you think Phil Heath will perform in the 2018 bodybuilding season? Let us know your thoughts in the comments section below or on Facebook.