Well, it looks like we all spoke too soon. If you're reading this and recently purchased a plane ticket to catch Mayweather's NYE fight in Tokyo, you might want to dial in that refund. Because according to the man himself no bout was ever made official.
Sorry, bro, we should have known it was too good to be true.
According to the 50-0 pro boxer, he never agreed to an official bout against Tenshin Nasukawa. In yesterday's Instagram post, Mayweather even stated that "in fact (with all due respect) I have never heard of him until this recent trip to Japan".
Clearly, the notorious Conor McGregor hadn't either considering his racist comments. However, Nasukawa seemed to overlook McGregor's blatant disrespect.
His response was to politely inform the Irish former UFC titleholder that he is not, and never was, Chinese action hero Jackie Chan. He even went as far as promising to avenge McGregor's loss to the undefeated boxing champ.
Okay, maybe that last bit was a slight dig from Tenshin. We're not entirely sure.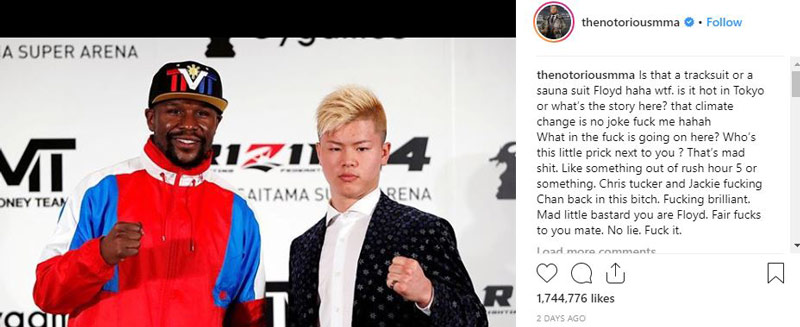 Floyd Agreed to Fight in Exhibition Bout
So, why were we all told there would be a style-vs-style showdown at the Saitama Super Arena?
"Ultimately, I was asked to participate in a 9-minute exhibition of 3 rounds with an opponent selected by the "Rizen Fighting Federation", said Mayweather, "this was to be an exhibition put on for a small group of wealthy spectators for a very large fee."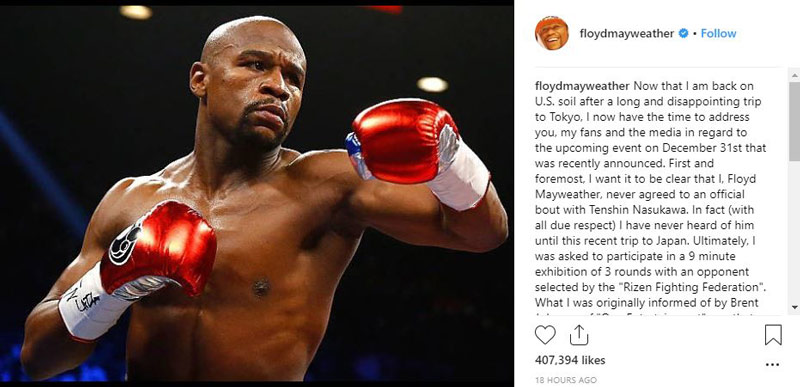 Once Floyd 'Money' Mayweather discovered the new direction of the event, he apparently looked to stop it immediately. Rather than pay the two fighters for a friendly "special bout", Rizin officials were gunning for an action-packed brawl to complete their show.
"I can assure you that I too was completely blindsided by the arrangements that were being made without my consent nor approval," announced Floyd, who also offered apologies to his fans saying, "For the sake of the several fans and attendees that flew in from all parts of the world to attend this past press conference, I was hesitant to create a huge disturbance by combating what was being said and for that I am truly sorry."
Again, we're sorry to be the bearers of bad news bro. Maybe we all should have known an NYE return for Floyd Mayweather was too good to be true.
But, since we're on the topic, what bout do you want to see? Which two fighters do you want to see go at it in a legendary match up? Come on bro, be creative! Build us a super fight in the comments.
More muscle obsessed news for you: