Borun and Mamota Devi Yumna, from India, have won a massive number awards across international bodybuilding championships.
Between them, the couple have more than 28 bodybuilding awards, which is more than can be said for you lazy a** couch potatoes!
Successful Career
Borun began competing within bodybuilding over 20 years ago, and has built an impressive physique in that time.
He trains six days per week, often lifting for up to five hours per session. If that's not dedication, then we don't know what is brah!
His consistent training certainly paid off, as he's earned several honors over the years, and doesn't show any signs of slowing down. As Borun said to Barcroft TV:
"I was 16 when I competed for the first time and became a champion in the sub-junior category for Mr. Manipur. That's how my journey started. I kept going till 2016 when I won 16-17 of nationals and three times Mr. Asia".
Challenging the Norm
Borun's wife Mamota was impressed by his physique after they met at a modelling show in Manipur. Soon enough, she became determined to follow in his footsteps – aiming to build a six pack just like him.
Mamota only began her bodybuilding journey in 2012, but the results she's attained since then speak for themselves brah!
Despite a demanding schedule which involves looking after their three young children, Mamota has earned six medals at international level – quite the feat if we do say so ourselves.
Mamota said the following in an interview with Barcroft TV:
"From a very young age, I would always want to do things that nobody had ever done. But I had never thought of bodybuilding, especially because it is not meant for women".
Well she certainly burst the barrier that 'bodybuilding is just for men', and has since built an incredible physique of her own, finding success along the way.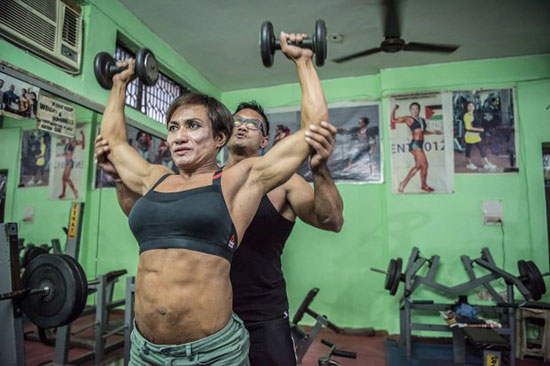 Image Credit: Metro UK
Conclusion
People often make excuses to not go to the gym, but Borun and Mamota have proven that it's more than possible to achieve great things despite commanding a busy schedule.
Take a leaf out of their book, and who knows, you might finally get rid of that awful muffin top bro.
What do you think of the bodybuilding couple's impressive progress? Let us know your thoughts in the comments section below.