The Japanese bodybuilder is clearly aiming to stamp his mark on the up-coming show in Australia.
Most people will know Hidetada Yamagishi from his appearance in the film, Generation Iron and his victory in the Arnold Classic 212 a few years back.
He's become a cult-favorite athlete, being appreciated more and more by mainstream fans too.
Although he wasn't able to place above 10th at the recent Arnold Classic in Ohio, USA, Hidetada Yamagishi looks set to impress in Australia.
He Looks Dryer Than Ever In Recent Instagram Posts
Hidetada's fans believed that he would have won the 212 division at the Arnold Classic if he entered this year, and that he deserved more than 10th place.
They've commented on his Instagram pictures with such things as:
"Hidetada Yamagishi is always unique and always out to put together a better package than the last."

"You looked great. This picture is indicative of the fact that you should have placed higher."

"What was your weight? If it was around 212, you would have won that division for sure."

"Looked fantastic Hide, you were my favorite athlete to watch on the stage!"
So it looks like the Japanese bodybuilder is working hard to bring an impressive package to the stage in Australia. And it looks to be paying off.
In a recent Instagram post, Hidetada Yamagishi can be seen flexing after his 3rd depletion workout and he looks f*cking incredible, bro.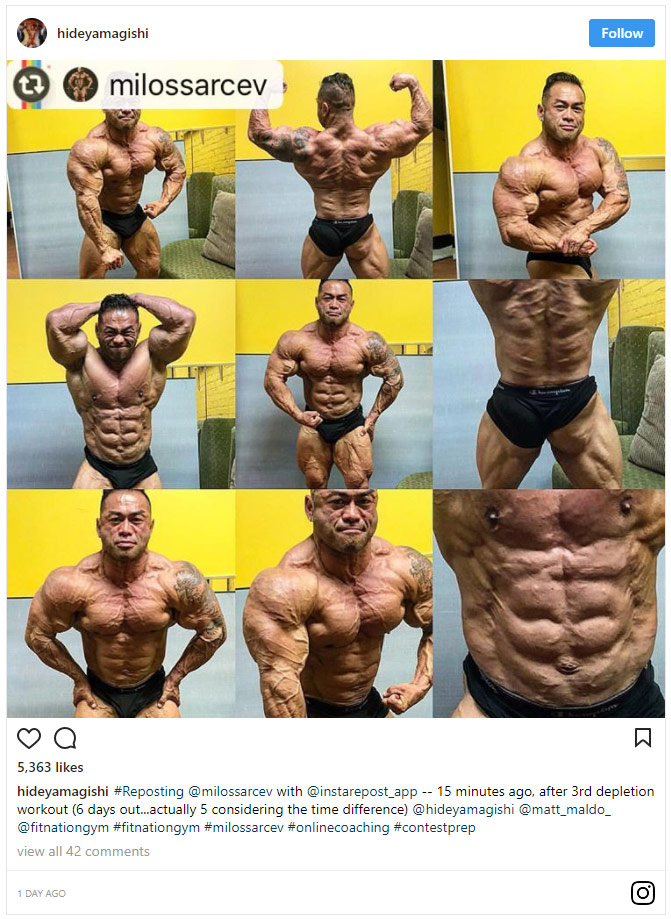 This physique update received many positive responses from his fans:
"Seems to be better than in Ohio!!"

"Your best shape ever"

"Looking awesome man see ya in Aus"

"Really inspiring the sh*t out of us man! You're killing the game rn! You and Milos make a BAD*SS Team"
Can Hidetada Yamagishi Finish In The Top 5 At Arnold Classic Australia?
We really respect Hidetada, but after a 10th place finish in Ohio, it doesn't seem likely that he'll bounce back and win the trophy in Australia.
However, if he delivers his best physique, then he could push for a top 3 or 5 finish.
Where do you think Hidetada Yamagishi will place? Give us your thoughts in the comments section!