Start-up firm Black Box VR has designed a full body workout which can be performed using virtual reality (VR).
Ever wanted to perform a workout using VR? well, now you can, thanks to Idaho-based Black Box VR's new resistance training machine, which uses a VR headset to perform a full body workout.
When they say 'the future is here' then this is exactly the type of crazy s**t they're talking about.
What's It All About?
Black Box VR involves wearing a VR headset in order to enter a 'virtual arena'. The participant then competes against an avatar, although the idea is to eventually challenge other gym-goers across the world.
The company's plans are to install their VR device in gyms, before moving onto a home based version in the future. Ultimately, the idea is to try and make the gym 'less boring'.
Speaking to the BBC, Black Box had this to say:
"Human beings in general find it hard to retain the habit of exercise and there's been many attempts to try and make it more appealing – so, VR makes sense from the perspective of trying to make the gym less boring".
However, there's been safety concerns surrounding the device; lifting heavy gym equipment while wearing a VR headset could potentially be a recipe for disaster…
Imagine walking in front of someone else who's kettlebell swinging – no-one wants a kettlebell to their balls, brah.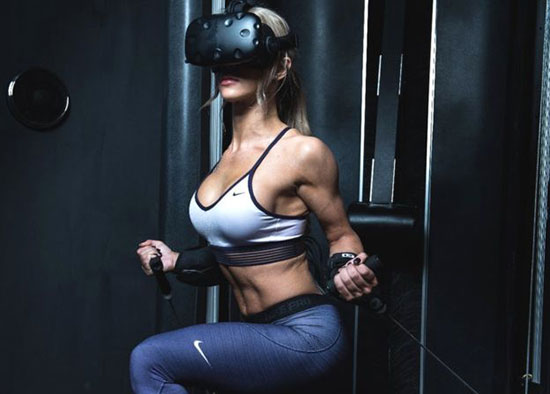 Image Credit: BBC
Redefining Fitness
Black Box VR was set up by the founders of Bodybuilding.com – Ryan DeLuca and Preston Lewis in 2016.
Their aim is to take the fitness industry by storm, and with an idea such as this, it appears that they can potentially one day achieve just that.
Here's an explanation of the founders' reasons for creating Black Box VR on their website:
"In 2016 Preston and Ryan decided to start their new venture, Black Box VR, with a mission to disrupt the fitness industry once again by creating innovative products and experiences that create lasting change in people's lives. After trying virtual reality for the first time, Ryan and Preston knew they were experiencing a magically immersive technology that, if paired with resistance training, gaming principles and high intensity cardio, will be the winning combination for people trying to reach their health & fitness goals. Black Box VR is redefining fitness as we know it".
Final Thoughts
Black Box VR has the potential to change the fitness industry forever. But first, they'll have to address safety concerns and determine whether the idea is cost effective or not.
Critics are saying that the system will be costly, at least initially. So it remains to be seen if virtual reality has a place within the gym.
We're not entirely convinced, and will be sticking to the good old dumbbells, barbells, and machines for now.
How about you? Let us know what you think in the comments section below or on Facebook.