Dallas McCarver's untimely death was an event that shook the entire bodybuilding industry. The 6'1″ giant was earmarked for huge things, after earning his pro card at the young age of 21.
In 2016 he placed 8th in Mr Olympia, which isn't all that bad given his age and relative inexperience when compared to the other athletes on stage. He was certainly a contender and a very exciting athlete to watch.
During the 2017 Arnold Classic in Austrialia though, Dallas fainted. Just managing to pick himself up and get back to his routine. Nothing was really heard about the problems and Dallas seemingly got back to his training and preparations for his next competition.
On Monday 22nd August 2017, 26 year old McCarver was sadly found unconscious at his home in Florida. Surrounding him and in his esophagus was food, which led initial reports to assume the young athlete had choked on food.
Sadly Dallas didn't make it and the bodybuilding community was left in shock. Countless messages and tributes were made to one of the hottest prospects of recent memory.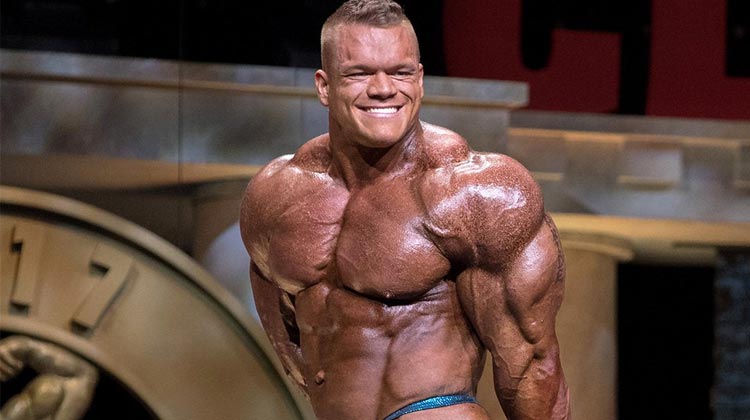 Autopsy Results
3 months after the death the autopsy results were released. And, it was revealed that the death of McCarver wasn't choking, but severe cardiomegaly, or abnormal enlargement of the heart.
To put this in perspective, his heart weighed 833g, whereas a normal healthy humans would weigh around 300g.
The enlarged heart triggered an "un-witnessed acute cardiac event", which sadly killed Dallas.
HGH and steroids have a long history of causing cardiac issues and it's an irrefutable fact that they can enlarge the heart. The autopsy points out that chronic use of exogenous steroids and non-steroid hormones would have been a big factor. Listing them as contributing conditions.
Dallas then, had seemingly pushed his body too hard. Which is both a tragedy and a lesson. By comparison to the previously deceased Rich Piana, Dallas' heart still weighed more. With Rich Pianas weighing 670g's.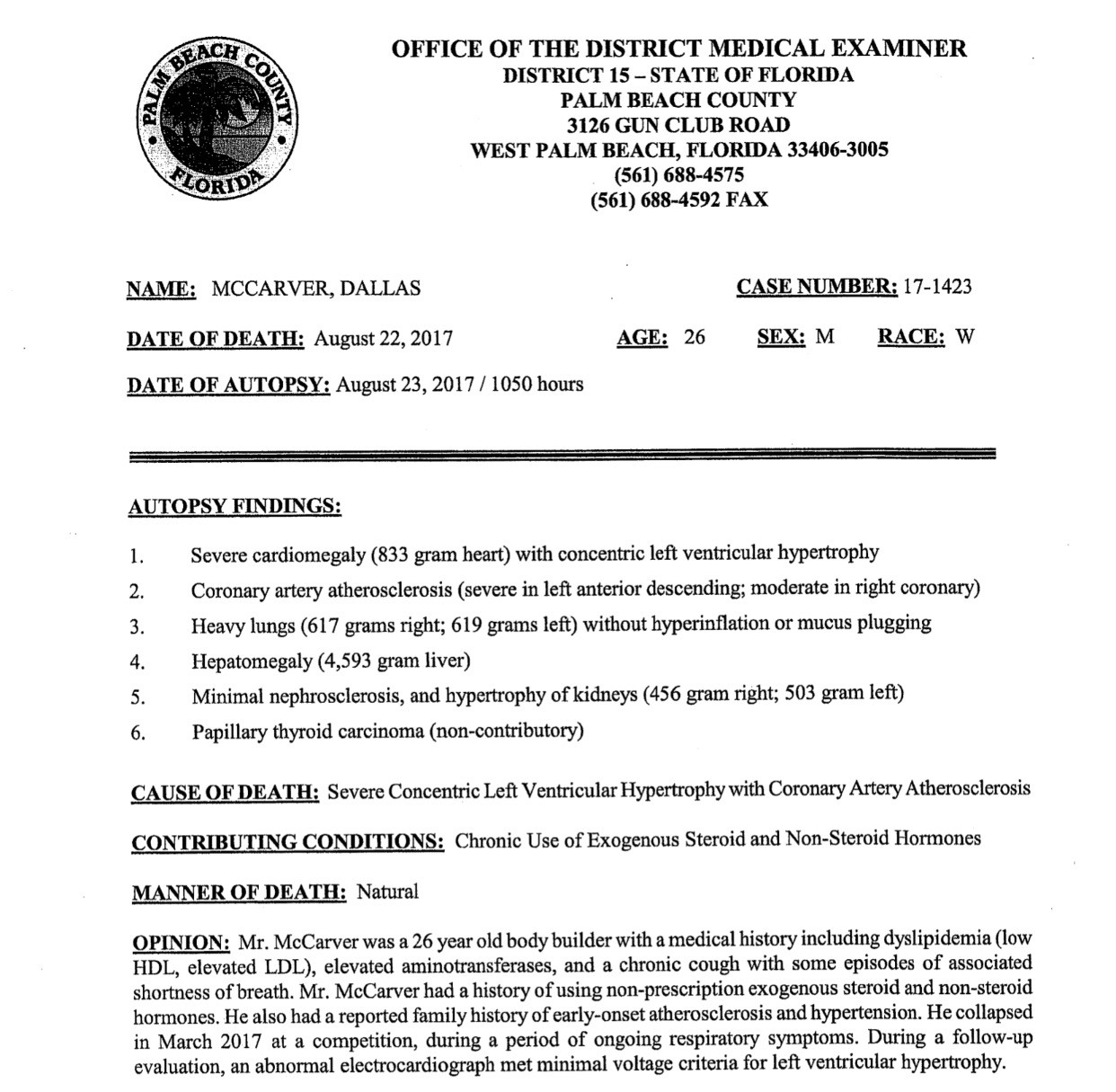 Whilst it's fair to say that steroids and hormones weren't the only thing responsible for the death of Dallas, the evidence does point to an abusive amount of the drugs used.
In the toxicology report it was found that his his levels of testosterone were at 550ng/ml. And also in his system was tren or trenbolone as it's called in the report. Which is a very harsh bodybuilding steroid. Using the tren alone, would leave you open to serious issues and a very very high blood pressure. Combining high amounts of tren with other steroids, is a match made in hell.
It's important to keep things balanced and stay within limits if you are going to be cycling any form of drug to enhance your performance. This keeps the gains coming and your organs as safe as possible. But there will always be risks.
With Dallas passing as young as he did, you've sort of got to ask the question about when steroid use becomes a full drug problem. Bodybuilding today wouldn't exist without these types of drugs, but with physiques getting bigger and bigger, is it time to look at honing things in a little?
Without a doubt the young American was a talented prospect, but ultimately it was shooting for too much, too young, which led to his passing.