Original Iron Addict, CT Fletcher, is in hospital undergoing a heart transplant. On March 4th the 2x World Bench Press Champion was waiting for a heart to be found, so the transplant could go ahead.
The good news is that it seems that heart has been found as on the 5th March 2018. CT posted a photo of himself sitting upright in a hospital bed, stating that he's not accepting visitors as they'd seem him after his transplant.
Typically of CT Fletcher, this shows a resolve and confidence in what are pretty shitty times. Heart transplants do fail and the survival rate to three years after the surgery is around 75%. Which, aren't nice stats when it's your life on the line.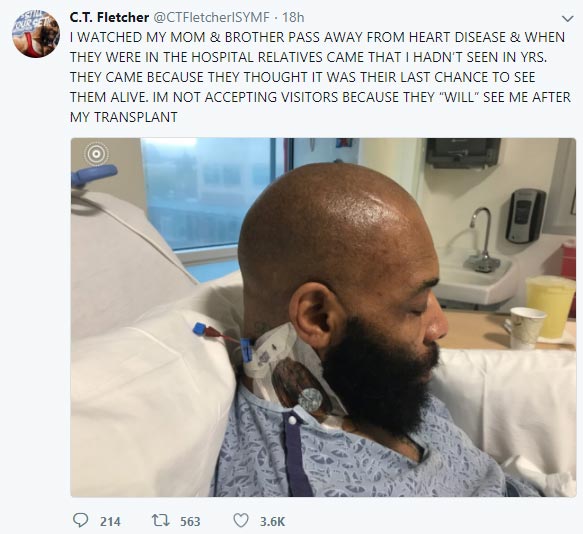 CT though, who had a heart attack in June 2017 isn't giving up hope at all. We're pretty sure the athlete will pull through; during open heart surgery he flat lined 3 times and still came back!
A source of motivation for thousands
Known for his crazy motivational videos and push to be the best version of yourself, CT is someone who'd adored by hundreds of thousands.
He's fought his entire life, so we doubt this latest problem will be any different. There's going to need to be a long period of rest after this latest surgery, but we hope all goes well and we get to hear from CT soon.
You can watch CT's public last will and testament video below. Beware though, it'll get you right in the feels.