So far in the run-up for UFC 229, fight fans have been subjected to a total media drought. It seems that the Russian eagle Khabib just won't play games with McGregor.
Hyping up a fight has never been as easy as this though. An undefeated and mysterious Russian puts it all on the line against the Irish people's champ Conor McGregor? On paper, the fight sells itself, as both men are adored in their native homelands – although Conor could sell out a stadium almost anywhere.
But, that doesn't mean UFC fans aren't hungry for the usual Conor chaos. Where are the jibes? The quick-witted sh*t talk we've all come to know, love, and ultimately expect? Maybe the former-champion is focussing his attention elsewhere.
Conor McGregor Tearing Up Training Partners Montage
Oh wait, maybe a recently released montage of mayhem has something to do with it. No, it's not a collection of clips showing the Dublin native throwing a metal dolly to the tune of Baby Shark. But trust us, you'll not be disappointed bro.
How about footage of Conor McGregor tearing apart training partners to light a fire on your social timelines? Yes, it's as f*cking hardcore as it sounds, bro!
Posted online by the man himself (well, probably a hired media manager) to his 25.7m Insta followers, the clip garnered almost 5 million views in just over 16 hours. Obviously, the battle between the people of Russia and Conor's loyal-till-death Irish fanbase has already swarmed the comments.
Will Khabib Retaliate?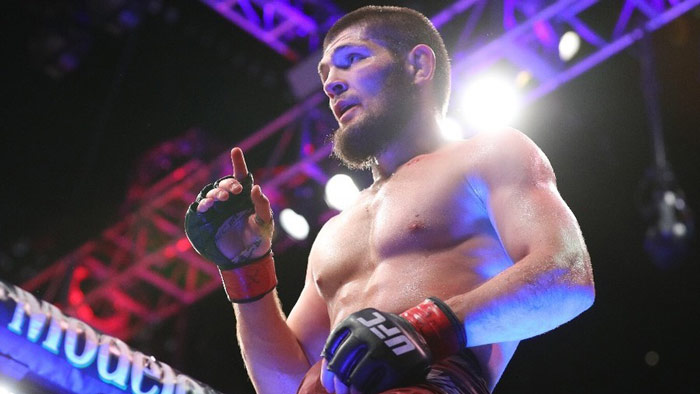 If this doesn't get Khabib's attention, then nothing will. Although he's reluctant to respond to 'The Notorious' one through Twitter, Insta, Facebook, and definitely Snapchat, how could he not retaliate to this brutal display? There's one thing for sure, Khabib will be pushing the pace during practice too. Maybe even harder, bro.
We won't lie and pretend we're not excited at the prospect of a comeback video. Nurmagomedov's gym the American Kickboxing Academy has a real reputation for being a ruthless gladiator school. Naturally, who wouldn't want to see the undefeated Russian wrestler sharpening his tools on that mat? According to two division UFC champion Daniel Cormier, Khabib has never lost a single wrestling round at AKA.
So the question that now stands is, will Khabib retaliate? Let's hope so…
Tell us who you've got winning this fight in the comments!
More you might like, bro: