The former army instructor states his intent to bring home silverware and opens up about the loss of his friend.
2017 has ended-up being a very sad year for the bodybuilding industry. We experienced the deaths of fitness icon, Rich Piana, and another with huge potential, Dallas McCarver.
Months have passed since then, but these losses still remain a sensitive issue to close friends, with Cedric McMillan opening up about his grieving for the first time.
Cedric Sets His Sights On Arnold Classic 2018
While the whole world and bodybuilding industry were shook by the deaths of Rich Piana and Dallas McCarver, those close to them still feel their absence today.
Cedric McMillan was one bodybuilder who competed and trained closely with the latter; 'The One' earned the 1st place trophy at the Arnold Classic 2017, with Dallas McCarver placing 2nd shortly before his tragic passing.
Now, Cedric hopes to win the 2018 Arnold Classic show in honor of Dallas, reminiscing about his time competing against him last year.
On an Instagram post, Cedric said: "D…The rest of the world may have moved on but not me…
"I just filled out my application for the Arnold and all I could think about was u. I wish I could have got 2nd if it meant u would chill and take a long relaxed off season and still be here.
"That wish haunts me everyday. I am gonna kick soooo much ass for u. God bless your soul big boy."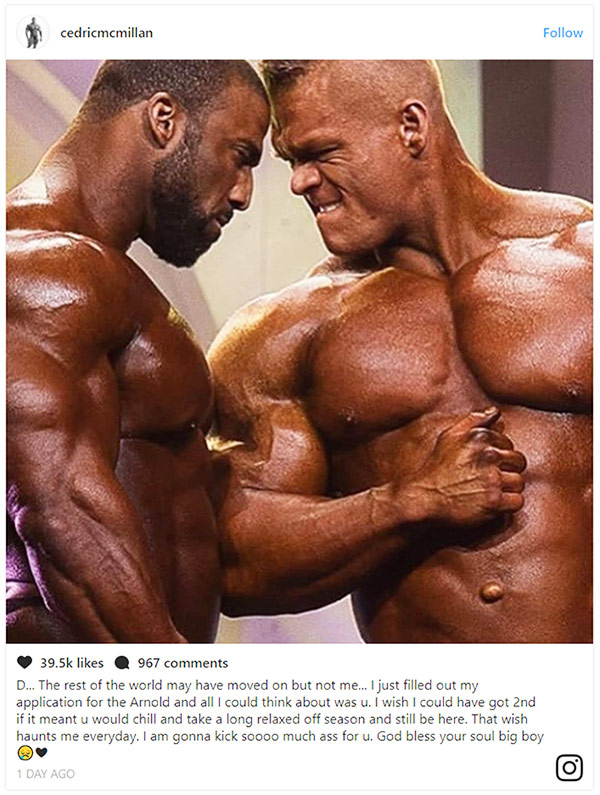 *Credit: @cedricmcmillan
Cedric's post has received very warm responses on Instagram, with many praising the bodybuilder for his 'real' personality and mentality.
Here's some responses below:
"Credric you are a true champion and a great rep for the sport."
"We need more people like you, great mentality and personality, Unlike most not selfish. Lots of respect to you and RIP Dallas."
Who Do You Think Will Win?
Similarly to last year, there'll be some tough competition in the 2018 Arnold Classic. Who do you think will win?
Are you backing Cedric McMillan to defend his crown in honor of Dallas? Give us your thoughts in the comments section below 👇