After posting a video of his bicep tear during an attempted 2-man bicep curl, Calum Von Moger will now be having surgery to recover.
On the 1st December, Calum Von Moger tried a crazy lift with his friend, Chris Bumstead, trying to pull-off a 400lb barbell bicep curl.
However, things didn't go as planned, and the video ends with Calum injuring his bicep. At the time, many thought this this was simply a publicity stunt to simply promote a pre-workout supplement.
Writing on his post containing the video, Calum warned others:
"DONT TRY THIS! Last night I had this crazy idea that me and Chris Bumstead should attempt a 400lb barbell curl. Was all fun and games until I tore my bicep. I really should know better."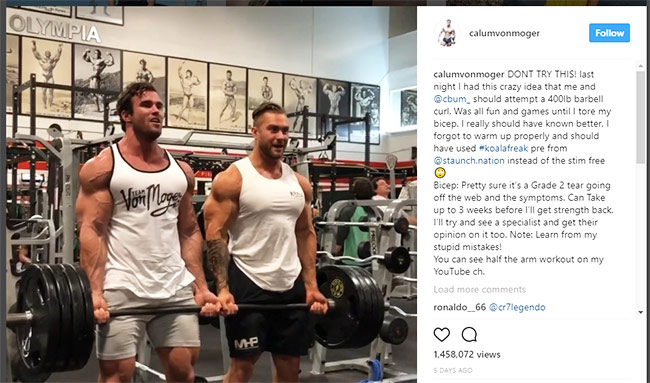 *Photo Credit: @calumvonmoger
Calum Requires Surgery
But now, Calum has revealed via his Instagram account that he requires surgery to reattach his bicep tendon after tearing his muscle.
Through an Instagram post, he said:
"My MRI results came in. I have a complete tear in the distal biceps tendon and will need surgery to reattach the tendon.
"Thank you for all the endless support. I've received heaps of encouraging messages/emails/comments and I really appreciate them.
"Despite the setback I face, I'm very grateful each day to be living in LA, doing what I love and sharing that with you here."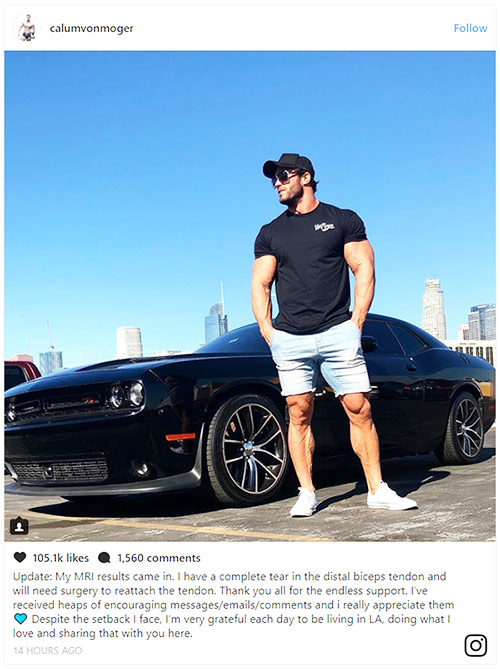 *Photo Credit: @calumvonmoger
Should Bodybuilders Stop Lifting For Social Media Likes?
You can't deny that this is a classic example of a bodybuilder lifting simply for likes and shares on social media.
It's happening more and more, with athletes even using fake weights to impress fans in recent times.
However, Calum Von Moger wouldn't have suffered his injury if he didn't attempt a crazy 400lb 2-man bicep curl.
Give us your thoughts about the issue in the comments section below 👇