A 35-year-old man recently lost 20lbs and successfully won his first boxing match in a very short period.
It's always good to hear about body transformations. They inspire many people to begin their fitness journey, helping them look better, and more importantly, improve their general health too.
Well, Rich Beecher is the man, from New York, successfully changed his physique. He started off as the owner of a 'dad bod', but turned this round becoming an amateur boxing champion in just 5 months.
Charity Boxing Match
Rich hadn't grown up overweight. He was relatively fit throughout his teenage years, representing his college at Lacrosse.
However, after donating his liver to a dying uncle, along with the added stresses of having his first child, Rich started packing-on body fat.
So when he saw the charity boxing event, he took the opportunity to set himself a target weight and raise money for charity.
Speaking to Men's Health, Rich said: "I needed it. I knew I was way overweight. I lost 20 pounds in the process, it was just one o those things where I knew I really needed it."
On his fundraising page, Rich mentions his experience donating his liver: "When I was 20 years old I was a living organ donor for my Uncle who had liver cancer.
"I donated 70% of my liver in 2002. That experience had such a profound impact on my life in so many ways. Since then, battling and beating cancer is a cause that I hold very close to my heart."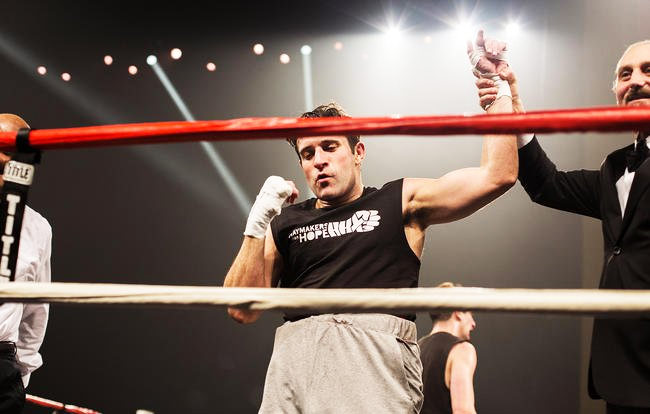 Becoming A Champion
It wasn't a walk in the park for Rich to complete his transformation; he endured 5 months of intense training, preparing for his boxing match almost every day.
However, by the night of the event, Rich weighed-in 20 pounds leaner.
Ultimately, after impressing the judges for 3 rounds, Rich was announced as the winner via unanimous decision.
On his experience, Rich said: "The first thirty seconds of the fight were a whirlwind. Muresanu [his opponent] is young, fast and strong. We both came out of our corners swinging like mad."
"There's no better motivation than getting punches in the face. I knew that in five months I was getting punched in the face whether I worked out or not."
He Raised over $80,000 For Charity
Understandably, Rich was distraught after losing his uncle to cancer. It was this that motivated him to success, and Rich managed to raise more than $80,000 for his chosen charity as a result.
Not only that, he'd significantly improved both his general health and his appearance – with his wife being particularily pleased with his transformation.
Speaking to Men's Health, Rich's wife said: "I was no nervous, but I knew he was gonna do great, he prepared t the max, he jsut goes all out.
"I can't keep my hands off him now!"
See Rich Beecher's fundraising page and donate on this page: https://www.haymakersforhope.org/profiles/rich-beecher