It's nearing the end of your high school career and you need to start applying for schools. You may have some criteria you want in a college: education, parties, athletics, girl to guy ratio, low STD stats, etc. But, at the end of the day, the meathead inside of you wants to pick a college that has a kick ass gym where your swole patrol will be in full effect. With thousands of colleges to choose from, whittling the list down to the top ten wont be easy, and many gyms won't make the list but will get a Spot Me Bro participation trophy for being really close. Either way, we at SMB have done our research and have picked what we feel to be the top ten college gyms in America. We have allowed for both student and student/athlete gyms make the cut since many student/athlete college gyms are pretty incredible so they can't be ignored (even if you can't use the facilities).
Our Criteria:
Available equipment – Do they have platforms, power racks, and prowlers in their gyms?
Quality of equipment – Is it top of the line equipment or run of the mill nonsense? Well maintained?
Facility uniqueness – Do they stand out from your normal 24 Hour Fitness gym?
Newness of facility – Is the equipment old or new?
Physical education programs/Classes available – Do they have classes such as "intro to weightlifting", or "intro to powerlifting"?
#1 Penn State University Rec Hall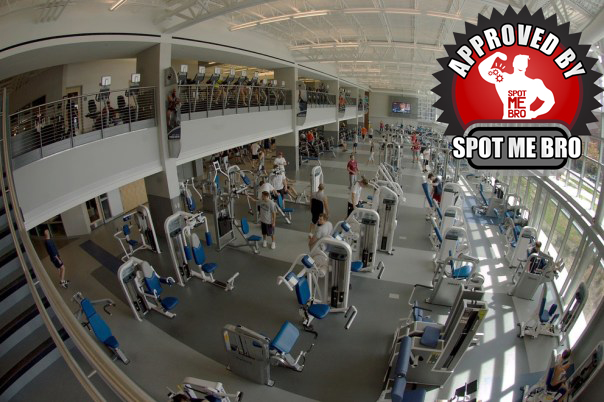 When you think of Pennsylvania you think of Amish people, Wiz Kalifa, steel, and of course, Penn State. Penn State has done an amazing job in offering their students as many options for workouts, and workout equipment in their four separate facilities located around campus. They have worked diligently to provide convenient access across campus in areas that are close to residence halls, commons, and parking. So depending on daily schedules students have multiple options to sneak in a workout. In addition to the four current student gyms, Penn State also has another 17,000 sq ft facility currently under construction and is scheduled to be completed early this spring. So there will be 5 facilities available for training, and that is money.
Stats:
The facilities have a wide seleciton of equipment to choose from: Concept 2, Cybex, Expresso, Hoist, Hammer Strength, Iron Grip, Ivanko, LifeFitness, Nautilus, Paramount, PreCor, Schwinn, StairMaster, and Versaclimbers. They have 51 pieces of plate loaded equipment (not including Smith Machines of which they have 5), composed mostly of Hammer Strength stations but also Paramount. They have 4 PowerLift power racks with platforms and 16 multi-purpose racks for squats, shrugs, etc. The facility has 32 dedicated bench presses and 46 workbench stations for using dumbbells. They also have 6 benches specifically designed to be used inside the multi-purpose racks that can function as bench/shoulder press stations. As far as powerlifting goes, they have fifty 100 lb plates and their racks are set up to accommodate bands and accessory bars. As far as accessory work needs, their facily has landmine attachments on each of the power racks, a set of jump boxes (4 sizes), medicine balls, multiple cable attachments for their cable systems (6 8-stack cable stations with adjustable pulley and cable-crossover stations), and two hex bars. Penn State also has 47 high-speed treadmills from PreCor and a total of 225 pairs of dumbbells, 2.5 lb DB's to 42.5 lbs, doubles to 60 lbs ranging from 5 to 130 lbs.
As far as programs go, they offer an academic class for students interested in more advanced strength and conditioning information and a introduction to personal training and strength coaching. Their facilities can be fairly crowded at certain times of the year and during the most popular hours, but generally they operate under 70% capacity so not too worry, you will find a place to lift. They are only open to students and staff (no outside community) and the vast majority of users (between 5000 and 6000 per day) are students. The mix is probably 60/40 male to female, but relatively balanced with University demographics.
The total annual attendance just in the Fitness Centers is almost 1 million (934,000 last year). Collectively, they're open 342 hours per week and can accommodate 550 people at any given time. There is over 60,000 lbs of plate weight and more than 21,000 lbs of DB's. The total square footage on campus once the new space is completed in January will be 55,500 sqft of body enhancing space. They also track attendance on their web-site so that students know which facilities are less crowded and can make their choice on where to train with more information. As an added service they've provided students with an App that has current attendance information, schedules, contact information, etc. at their finger-tips. Future plans include an attendance predictor for making plans in advance, a workout card for recording training results and a video library of exercises for designing workouts and learning form. I can only sum this up with one word, Gnarly.
#2 University of Alabama (Athlete Weight Room)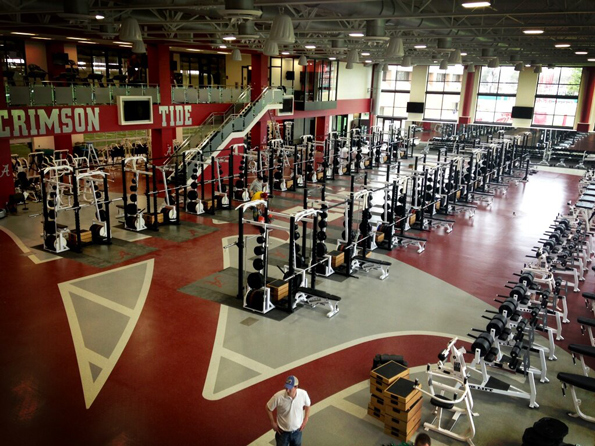 Alabama is known for many things, Forrest Gump, cotton, and of course, Alabama athletics. They recently rebuilt their athletes facility which cost approximately $9 million for an expansive 37,000 sqft weight room with 21,000-square feet on the first level, and 16,000-square feet on the second level (considered to be the biggest and baddest weight room in the country). The ground level comprises a weight room, highlighted by 20 combination racks that feature platforms built into the ground for a level surface that provides a safer training environment. The weight room also has a state-of-the-art performance nutrition center to fuel Alabama student-athletes, plus physicians offices and strength and conditioning offices. The bottom floor of the new weight room also features four garage doors that connect the Hank Crisp Indoor Facility. The upper level of the weight room features a cardio station, medicine balls and more office space. The new weight room also features an elaborate and loud sound system to help motivate athletes during training.
"The best of the best; there is no magic, it's HEAVY WEIGHT" Coach Cochran
#3 University of Iowa (Hawkeyes)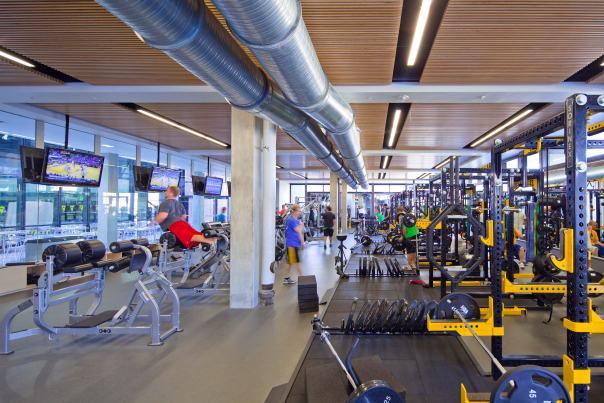 The University of Iowa student gym (Campus Rec and Wellness Center) is by far one the best I found in my overly detailed search of student gyms. The administration has spared no expense to create a gym that was friendly to both the normal gym goer, as well as the hardcore training phenoms. I spoke with one of the staff from this facility and he not only provided me with major gym stats, but also with terrific photos of their facility. This facility is one of five on the campus for students to utilize, but this one has most of the major ICE and is the busiest of the bunch.
Stats:
It boasts 20,000 square feet of fitness space over three levels. The Hawkeyes gym has a great selection of equipment to choose from: Hammer Strength, Sorinex, Precor, Cybex, Matrix, Life Fitness, Woodway, Expresso, TechnoGym. They have a total of 5 hammer strength pieces, as well as other miscellaneous stations you can use that are attached to the 9 Sorinex power racks. As previously stated, each power rack has three stations per platform as well as 9 platforms which are connected to the power racks. They also have 2 full decline only benches as well as 15 benches that do adjust from flat to completely vertical (90 degrees). This facility also has a nice variety of accessory equipment such as bands, push sleds, jump boxes, kettlebells (60), battling ropes (8), jump boxes (5), hex bars (9), female bars (2), and dumbells that go from 5lbs to 125lbs; and, for the inner sprinter in all of us the have five high-speed woodway treadmills.
As far as programs go, this facility has a nice variety of classes including Olympic Weightlifting, X-Fit (CrossFit), Powerlifting sport club, Olympic Lifting Sport club, TRX, Rip Training, Kettlebells, and Specialty Bootcamp classes. They have over 40,00 students and 7,000 community members however mostly students use the facility, but they do have a lot of programs and incentives for faculty/staff to use our facilities (so even after you graduate you can workout there).
#4 University of Nebraska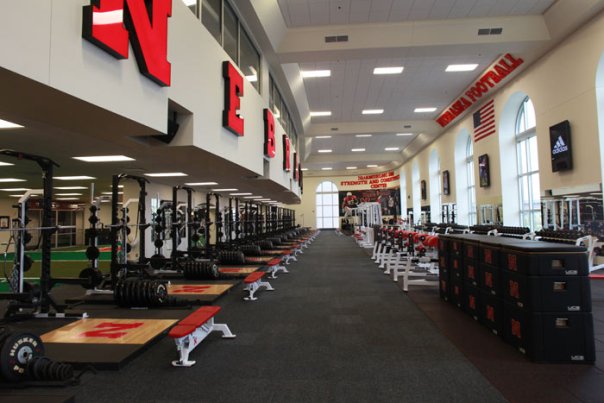 Touted as the The Nation's Best Strength and Conditioning Program, the University of Nebraska has quite an impressive strength and conditioning facility (again, considered the finest in the nation). Built in 2006, the weight room is one of the largest in the country. Widely regarded as a pioneer in the field of strength and conditioning and the premiere collegiate strength and conditioning program, Nebraska's strength and conditioning center is 50 percent larger than its previous weight room. Complete with platforms, power racks, large turf area, GHD's, dumbells, and a computerized tracking system which monitors any work done on the power rack (tracks weight, reps, speed, and also films each set for playback). I think that last part is probably the most amazing part of this facility; newer technology implemented into programs such as theirs will become the mainstay in years to come.
#5 University of California San Diego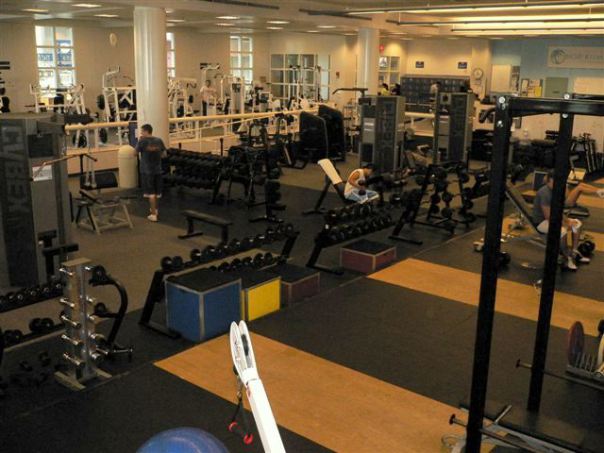 This may come as a surprise to some of you who know UCSD as more of an academic school, which it is. However, within the confines of this amazingly productive education institution is a gym that creates an atmosphere even the most hardcore lifter could appreciate. The UCSD Recreation department gives you multiple options for fitness centers, as do many of the others on this list (RIMAC Weight Room "PIT"(awesome of course), Main Gym Weight Room, a Wellness Studio, and a smaller canyon view site).
Between all three facilities there is a laundry list of amazing equipment: 24 Hammer Strength and Flex Leverage machines, Cybex lat pulldown and 3 Precor Icarian leg sleds. The facility has 9 power racks that are designed as SCPU's (Self Contained Power Units) where each cage also has a multi-adjustable bench and set of Eleiko bumpers associated with it to make the area very versatile. The RIMAC facility has two full circuits encompassing equipment such as Nautilus, Life Fitness Signature, Hoist, Body Master, Magnum, Free Motion cable units as well as selectorized Icarian and Cybex machines. The RIMAC gym also contains many Hammer Strength plate loaded and Flex plate loaded. Their blockable area (The "Pit") has a PurMotion functional trainer with ropes, renegades, ground rotational trainers, TRX and AirFit Pro units, Dynamic Vector core bars and pull up bars and handles. They also have 13 dedicated bench presses (flat, decline, incline) and 11 adjustable benches (incline/decline) for dumbbell work (2 sets dumbells, 5 to 120 lbs.) To suit your powerlifting needs, both the Pit and West end gyms free weight areas have bands, chains, hex bars, squat bars, and Ivanko stainless steel bars with urethane covered steel plates. There are oak wood lifting boxes from Power Lift at all stations, as well as Samson cages with many accessories such as dip attachments and pull up grips. There are 6 sets of vinyl, plyometric boxes (3', 2', 18"), kettlebells, and glute ham chairs. 6 sets of Eleiko bumpers and bars including 25k bumpers to 5 and 2.5 K plates. These areas have "in house" made platforms extending 10' encompassing the length of the entire free weight area. 4" thick multi-layered plywood topped off with ¾" Krieberg rubber flooring with a nice top layer for lifting in the Pit. The West end has two platforms with the same platforms associated in the always available free weight area. For your accessory work, they have 3 ropes, 2 composite leg press machines, "The Bear" leg jumper, 2 Hammer Strength shrug squats, 4 sets of new Iron Grip cambered bars and barbells from 15 to 90 lbs, 6 hex bars, various thickness stretch cords, pull up belts and ab straps, Cybex grip machine, heavy bars and 25 PVC stretch bars and a True Stretch cage, kettlebells, medicine balls from 5 to 20 lbs., rebound tramp, 13 physioballs, two roman chairs and a multitude of foam rollers. For your "cardio interval" needs the gyms have multiple Woodway treadmills as well as a number of Concept II rowers.
This rec center also offers classes such as CrossFit, Olympic Weightlifting, and also have a powerlifting club. The gym is predominately students with about 20% being staff and faculty. The gym maxes out at 180 and reaches that number on a consistent basis, of course there is no wonder with the amount of stuff they offer.
#6 University of Oregon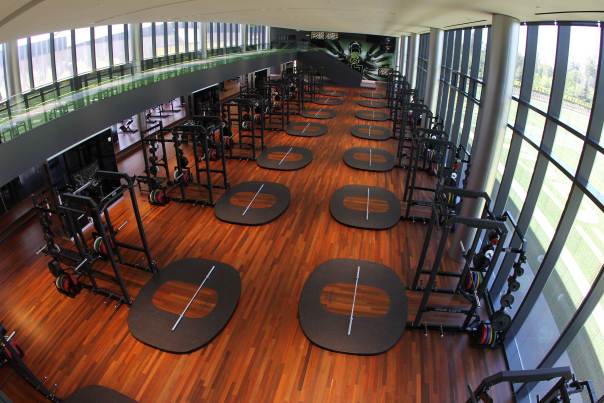 The University of Oregon recently completed their $68 million, 145,000 sqft football training facility. This facility is beyond amazing, slightly ridiculous, but pretty spectacular none the less. When you enter the lobby there are sixty-four 55-inch televisions that can combine to project a single image. The facility contains a 25,000-square-foot weight room with a floor made of Brazilian hardwood, and the platforms for Olympic lifting are in the shapes of their O logo. Complete with German-built lockers equipped with ventilation systems designed to eliminate smells, as well as a barbershop, this facility is unique to say the least.
#7 University of Arizona Rec Center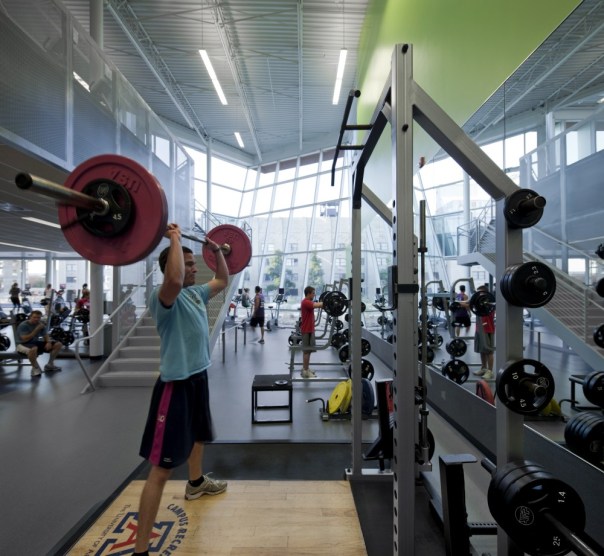 Arizona may be one of the hottest places on planet earth but that does not stop people from working hard in the gym (AC included). The University of Arizona Rec Center makes our top-ten list with a terrific line-up of equipment to keep even the most creative of workout participants involved. The staff over at U of A were kind enough to provide me with a terrific synopsis of their facility, the equipment, and its people. I wonder how large the A.C units are?!?
Stats:
Equipment selection includes: Woodway, Precor, Life Fitness, Star Trac, Sci-Fit, Nautilus, Cybex, Tectrix, Life Step, Concept 2 . Their facility has 3 power racks, 2 squat cages, 2 squat racks, 2 smith machines, 17 plate loaded strength machines (2 leg press, 2 calves, 5 hamstring, 8 upper body), 12 bench presses (including flat, decline, incline), 3 Olympic lifting platforms (bumper plates from 10-25kg), 8 jump boxes, 3 dip belts, 30 Woodway treadmills, 3 preacher curls (gunz not included), as well as various strength classes including Tabata Tough and Think Big Get Big. The gym is fairly busy with upwards of 200-300 patrons at peak hours of the day; the facility is mostly used by college students and the estimated ratio of male to female users is about 65/35.
#8 Ohio State University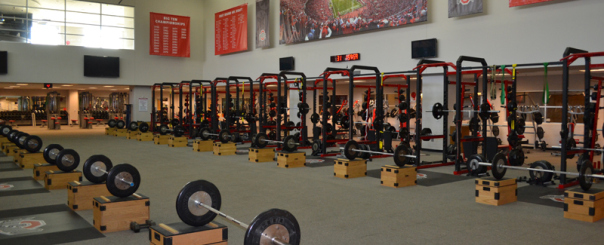 The Woody Hayes Athletic Center indoor athletics training facility was renovated in a significant expansion from 2005–2007 ($21.5 million, 53,000-square-foot expansion). The facility contains an indoor field which is 400 feet (120 m) long, 220 feet wide and 65 feet high and is covered by All-Pro Turf. The facility now totals more than 78,000 sqft including offices and meeting rooms. The facility has a 17,000 sqft weight room, free weights, Nautilus, Inc. equipment and a training room; It also has an 1800 sqft second floor cardio area for players to utilize.
#9 Georgia Southern University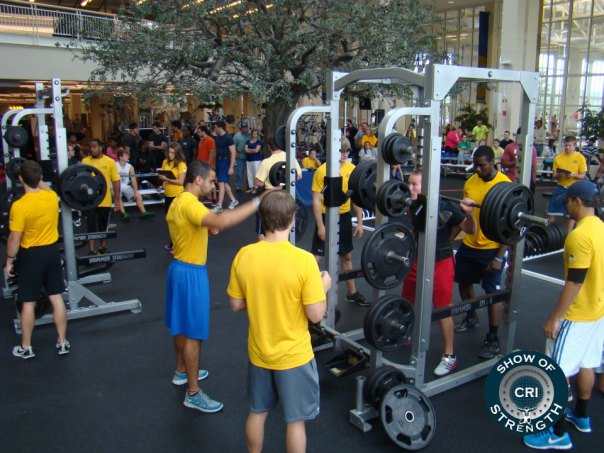 As with many of the other schools on this list, Georgia Southern could have made this list with both their student gym as well as their athlete-only gym (Including large weight room, plyo/agility sand pit, and grass hill built for hill sprints). Both facilities are pretty impressive in their own right, and can easily hold a candle to some of the larger schools around the country.
Their rec facility is 215,000 sqft spread across two full floors of mixed usage area. The bottom floor includes a large, 5500 sqft free weight room with hammer strength benches (flat, incline, and decline), full power racks, plate loaded, a large tree right in the middle, as well as two full platforms for Olympic lifting. On the other end of the weight room first floor is another 5500 sqft of various selectorized weight machines from Life Fitness and Freemotion. Comprising the rest of the first floor space are five basketball courts, miscellaneous group exercise rooms, offices, a climbing wall, a bouldering wall, competition pool, and racquet ball courts. The second floor includes a full line of cardio equipment including but not limited to, Woodway treadmills and Concept II rowers. There is also a 1/9 mile track circling the a large part of the second floor area.
As far as programming goes, this school is near the top of my list. Reason being, they offer two competitions each year; one being called the "Show of Strength" where individuals perform the three lifts including bench press, dead lift and squat. Winners are determined by best lifts in each weight class and gender division. There is also a best overall award for combined weight. The second annual event is called "The Strongest Eagle" which is designed after the World's Strongest Man competition; events include a keg toss, tire flip, log press, max deadlift, and more!
#10 University Of Texas (Austin)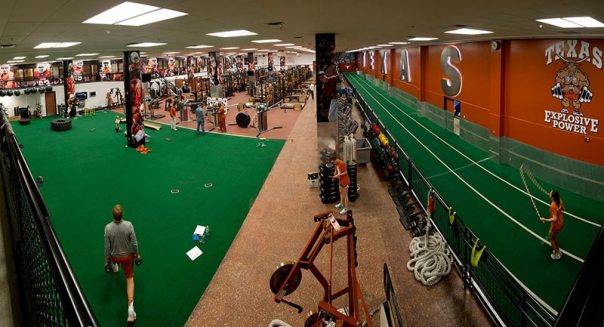 Everything is big in Texas, and that goes for the Longhorn strength and conditioning facility as well. The Dr. Nasser Al-Rashid Strength Complex boasts 20,000-square feet of customized training equipment, Olympic weight lifting platforms, computer and video based training systems, a 70-yard astroturf track, a 35-by-45 foot astroturf plyometric training center, Gatorade dispensers and a top-of-the-line sound system.
Whats new, The Red McCombs Red Zone Sports Medicine & Strength Training Project, located in the lower levels of the north end zone was completed in the summer of 2013. The two-floor, 32,448 square-foot project includes a state of the art sports medicine facility on the upper floor, and a strength training complex on the lower floor. Amenities include a hydrotherapy pool, two plunge pools, golf putting and simulator area, a 40-yard acceleration track, a nutrition area and student-athlete/staff locker rooms. Go big, or go home I suppose.
Summary:
To safely exit this "top ten" without receiving hate mail from hundreds of thousands of college students who think their college gym should have made the list I will say this; there are so many amazing athlete and student gyms at colleges around the country. There were so many gyms that deserved to be on this list and ultimately, it came down to us picking 10 and feeling confident in our overall decisions based on our above criteria. In retrospect, a Top 100 probably would have been easier, maybe too easy, like shooting fish in a barrel. Honorable mentions can include but are not limited to, any big-name college from around the nation (Tennessee, Texas A+M, Cincinnati, Florida St., University of Miami, Oklahoma, USC, Virginia Tech, LSU, etc.), I can go on and on. Thanks for reading and best of luck on choosing a college right for your lifting needs!
P.S. Check out the all new Spot Me Bro Store