Just when you thought that a math teacher could do nothing more than to bore an entire class. Even though that might be the case, this math teacher's physical abilities is everything but boring.
Meet Jennifer Thompson, the teacher who benched 325 pounds in front of the entire Liberty University Football team without even breaking a sweat.
Weighing only 132 lbs. and standing tall at 5'5", she has a decent build, making her successful attempt at benching that much weight a completely badass thing to do.
Thompson says that this is all possible because of the "eat, sleep, lift".
"One of my life's proudest moment was when I was able to bench press 325 lbs. with just a 132 lb. body weight. I have been in practice for this for years and it was perhaps the Highest Wilks Co-Efficient in History for Men or Women. I did it at the Arnold Classic and this is a phenomenal event. The entire crowd and my family were watching me and it still gives me goosebumps whenever I think about it."
Thompson is a 43-year-old a mother of two and high school mathematics teacher. Don't be fooled by her outward characteristics, s She also likes to compete as a powerlifter from time to time.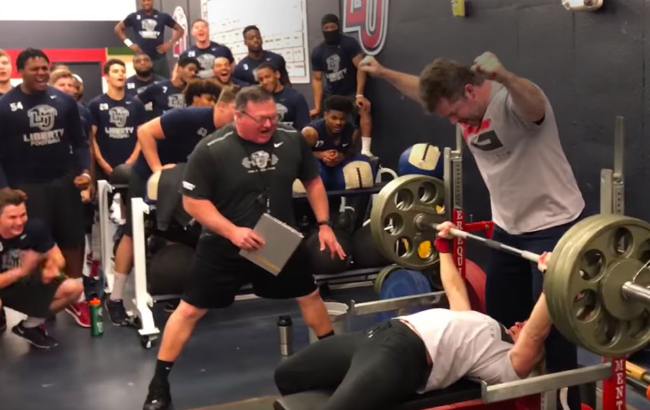 Continued on the next page…
Thompson, a powerlifter with the IPF, has a 550 pound squat under her belt and has held 515 pounds over her chest for approximately 10 seconds. This was something completely insane for a woman of her physique and age, considering that not even young, healthy, testosterone wielding men can do.
In this video, you can clearly see her performing a 550-pound squat while pausing at the bottom of the rep.
If that wasn't enough to impress you, here's the 515 pounds she held over her chest. That pretty much looks dangerous, though.
Thompson has reached this level through years of practice. It wouldn't be too wise to mimic the crazy amount of weights that she lifts. Instead, work on your weaknesses and keep pushing yourself slowly each week and you'll be bound to see improvements in your strength.
A bench press may be a very common exercise and perhaps even easier to perform after watching Thompson make 325 pounds look easy, but when it comes to practicality, it requires some serious practice, nerves, and persistence.
So, was that impressive? Can you compete with this math teacher and bench press 325 pounds?
Let us know what your best bench was, and no, Smith machines don't count.
May we suggest: