Overview
Prime Male is a natural testosterone booster. Prime Male has been one of the top testosterone boosting products to hit the market and has helped many people gain lean muscle, increase their sex drive, realize high energy levels, and more. What has made Prime Male one of the most popular testo boosters on the market? Read on as we break it down for you.
How Does Prime Male Work / What Are The Benefits?
All men have testosterone surging through their bodies, but once your test levels drop, some unwanted changes start to take place; hair loss, decreased libido, energy levels and strength are just a few examples. As a natural testosterone booster, Prime Male utilizes the best natural ingredients to help achieve the desired result, whatever it may be; regaining your sex drive or even if you just want to increase your lean muscle mass. Each of the ingredients contained in Prime Male form a potent formula to help stimulate your body to produce more testosterone (in the next section we'll go through the list of ingredients).
1. Increased body strength leads to MORE LEAN MUSCLE
2. Stronger LIBIDO
3. Higher energy levels and stamina
4. Weight loss
5. Improved cardiovascular health
6. New, healthier & tighter look for your skin
7. Sharpened mental alertness
8. Lower blood pressure
9. Healthier prostate
The benefits of taking a testosterone booster includes:
It boosts your energy levels
Helps you lose that stubborn belly fat
Increases libido
Increases and even speeds up muscle building and strength training results.
All of which Prime Male was specifically developed for.
The Ingredients
Now on to the fun stuff: Ingredients. Each of the 12 ingredients have specifically been selected based on clinically proven research that has shown the positive effects that they have on test production.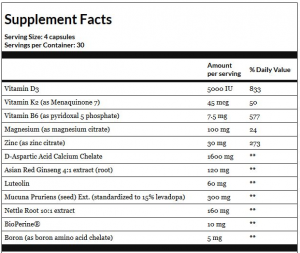 D-Aspartic Acid – 1600 mg — D-Aspartic Acid is anamino acid and neurotransmitter that triggers the release of luteinizing hormone (LH) which stimulates the male testes to produce more testosterone. PrimeMale makes use of the calcium chelate form of D-Aspartic Acid, which is more soluble in water than the standard form of D-AA. Meaning that the absorption absorption and bioavailability are improved.
BioPerine – 10 mg — Clinical studies have shown that this ingredient has an effect as a "bioavailability enhacer" that increases the absorption rate of nutrients by as much as 20-fold.
Boron (as boron amino acid chelate) – 5 mg — Boron has an effect on inflammation, bone maintenance, cognition, hormones, blood plasma, and vitamin D. Boron amino acid chelate has been included as an ingredient in Prime Male due to its bioavailability.
Korean Red Ginseng – 120 mg — For centuries Asian red ginseng has been used as a medicine to boost energy, strengthen the immune system, and increase longevity. Studies that have been done, show that ginseng was able to increase the testosterone levels in lab animals. And if that's not enough, it has also positive results in treating impotency in males.
Luteolin – 60 mg — Luteolin is citrus flavonoid and is included in the selection of ingredients due to its powerful aromatase inhibiting properties. As an aromatase inhibitor, Luteolin reduces the production of estrogen that might occur from increased testosterone levels.
Magnesium Citrate – 100 mg — Magnesium Citrate decreases your sex hormone binding grobulin (SHBG) count, increasing your levels of free testosterone, which is the only form of test that improves male potency.
Mucuna Pruriens Extract – 300 mg — Mucuna Pruriens reduces prolactin (causes low testosterone) levels in men, preventing free testosterone from being depleted. Mucuna is also a natural source of the amino acid levadopa (L-Dopa), which has clinically proven to boost testosterone and increase the production of human growth hormone (HGH).
Nettle Root Extract – 160 mg — Lignans are compounds that are derived from the Nettle Root. These compounds bind with the SHBG, freeing up more testosterone to be used by your body. Nettle Root also contains beta-sitosterol which has the ability to boost testosterone production.
Vitamin B6 – 7.5 mg — Vitamin B6 stimulates the androgen receptors which in turn signals the testes to pump testosterone into your blood stream.
Vitamin D3 – 5000 IU — Research has shown that men who supplement with Vitamin D3 for extended periods of time have higher levels of testosterone — by as much as 20%. And as a plus, this vitamin also regulates both estrogen and testosterone levels.
Vitamin K2 – 45 mcg — Vitamin K12 works hand-in-hand with the aforementioned Vitamin D3. It helps Vitamin D3 to work more effectively, and also enhances test production on its own.
Zinc Citrate – 30mg — Zinc enables the pituitary gland to release the luteinizing hormone, which in turn stimulates the testes to produce more testosterone. It is essential to supplement with zinc as your body does not store or produce it.
After looking at each ingredient specifically, it's clear that each one was chosen and added to the product to perform a specific goal — increasing testosterone production. Not only do these ingredients work well alone, but they perform even better alongside each other, enhancing the overall effect of Prime Male.
Are There Any Side Effects?
Thus far no side effects have been reported with the use of Prime Male. All of the ingredients have been dosed so that they provide the maximum benefit but still within the borders of safety. It is, however, paramount that the recommended guidelines be followed. We're not saying that you're going to overdose if you take two pills more than what is recommended, just know that you will get the results you need from following proper protocol.
Effectiveness of Prime Male
As with most quality products, Prime Male guarantees results and product satisfaction. If 90 days have passed and you haven't been getting the results as promised by the company, they will refund your money — no questions asked.
But even if you haven't used this product yet, just do the research on the ingredients if you have to, and you'll see that several clinical studies have proven each ingredient to work — better yet, work together.
Price and Where To Buy
Prime Male is offered in three different packages:
3-month supply for $207 (Free worldwide shipping)
2-month supply for $138 (Free USA & UK shipping)
1-month supply for $69
Prime Male can be bought from their homepage.
Conclusion
This is a great supplement for both bulking and cutting phases. Unlike many bodybuilding supplements, it relies on solid scientifically proven compounds.
Prime Male, while aimed as an anti-aging product for older men it really should be good for anyone from their late twenties and up, not just to boost libido but to increase concentration, maximize energy levels and put on some lean muscle. It never hurts to lose a little off those love handles and get toned, no matter what your age.
One of the best parts of buying Prime Male is that the official website offers a "90 day 100% risk-free" guarantee. If you're dissatisfied with Prime Male for any reason, you can return it within a 90 day period for a full refund (after using it for 90 days). Now that's a company that's confident in its product.
If you're looking for a natural testosterone booster then Prime Male should be top of your list if you can afford it.